Landscape Services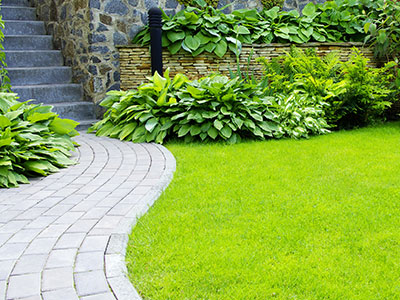 When it comes to residential and commercial landscaping, you will need professional help to maintain a beautiful and healthy lawn or yard. At T&J Landscape Services, we are a licensed and insured landscape installation and management service provider in Cedar Lake, IN. We offer the following range of services for our clients in the region.


Residential/Commercial Landscape Installation
We offer full-service residential and commercial landscape installation services. We have specialized crews in the installation of brick pavers, tree and shrub plantings, and sodding. When it comes to brick pavers, we install different types of outdoor surfaces including driveways, sidewalks, walkways, patios, pool decks, and retaining walls. These installations help significantly increase your property's value and elegance.

Our sodding services give you a fresh and green lawn in a much shorter time. It helps prevent erosion and adds new life to your lawn. Then our well-planned tree and shrub plantings further enrich and enhance your landscape. Our services are available for both new constructions and existing properties. The choice of plants and trees will be discussed with you, but our professional acumen will play a key role in determining which positions they will go best with. Our certified professionals will consider your landscape's structure, design, and existing features in making the right choice. Read More About Residential/Commercial Landscape Installation >>


Residential/Commercial Sprinkler Systems
We design and install custom sprinkler systems best suited to the unique landscaping needs of your property. We work with lawn sprinkler systems, landscape irrigation, and drip irrigation systems. The use of high-quality systems and components brings more reliability to the irrigation systems used in your lawn. This further helps reduce maintenance and repair requirements.

We install all types of systems including automatic sprinkler systems. Our services address everything including head to head coverage, optimized water usage, wireless rain sensors, and everything in between. Our clientele includes residences, office buildings, retail stores, homeowner associations, gated communities, and many others. We develop sprinkler systems that prevent inconsistent watering and over-watering. The result is a beautiful and healthy yard. Besides, all our services focus on conserving water and creating environment-friendly solutions. We have certified and well-trained designers and installers who always focus on customer satisfaction. Read More About Residential/Commercial Sprinkler Systems >>


Commercial Landscape Maintenance
When it comes to commercial landscape maintenance, regular mowing, fertilization, and trimming are important aspects. Our services help create a beautiful and healthy lawn and planting bed. Maintaining a professional impression for your commercial property requires professional landscape maintenance services. A lush green, healthy, and neat lawn and planting bed helps create an inviting focal point. Our professional mowing services help increase your property's curb appeal. Besides, it also encourages healthy and resilient turf development.

From using the latest equipment to ensuring that the excess grass on the driveways and walkways are blown off, we follow a fixed schedule for our mowing services. Our scheduled professional fertilization services include seasonal programs. We develop custom fertilizing programs around the type of plants, shrubs, and ornamental trees and the condition of your lawn and planting beds. Our professional bush trimming services further help maintain the clean and professional looks of your outdoors. Read More About Commercial Landscape Maintenance >>


Commercial Snow & Ice Management
Here at T&J Landscape Services we offer our commercial clients comprehensive snow and ice management services. Our winter's in Indiana can be quite harsh and it can be a hard job to run a business and to ensure that your site is both safe and easy to access for your clientele. So let us take all the stress and hassle out of it for you; we will ensure that your commercial property is cleared of snow and ice on a regular basis so that your customers and employees have safe entry into your place of business. We have all the right equipment and machinery to get the job done fast and efficiently! Read More About Commercial Snow & Ice Management >>

We are fully licensed, insured, and certified to provide these landscaping services throughout Cedar Lake and the surrounding areas. For more information about our services, feel free to contact T&J Landscape Services at 219-374-9900. You may also send us a message at info@tjlandscapeservices.com and we will revert at the earliest.

We Provide Services to the Following Cities, Towns and Surrounding Regions of IN: